St. Helen's Angels – A special "Thanks" to Gerardo Alcaraz for all he does behind the scenes at the church and for trying to upgrade our video equipment from the church to the hall. A special "Thanks" to William Agredano for trimming all the trees, brush, and cleaning the back side of the church and office. A special "Thanks" to Johnnie and Jennie Seballos and the Kitchen Angels for cooking and serving a delicious Thanksgiving dinner in the hall to parishioners.
Fall Fiesta 2018 – Saturday, October was a HUGE success – Thanks goes to Ellie Brown, Manny Navarro and Alfred Trejo for spearheading this year's fiesta. Thanks goes out to all who helped work with the fiesta. You are all blessed for your hard work that made the fiesta an enjoyable and successful event.  View Fiesta Video
Registration for 2018-19 Catechetical School/Sacramental Preparations – Sunday, September 9 – All Masses ; Sunday, October 7 last day of registration – Week of October 14 – Classes begin. 
Parents, grandparents and sponsors: Encourage your children/wards to register. Registration fees: $25 per student. Families with more than one child for registration – fee $20.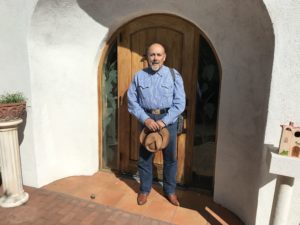 Thank You to William Agredano – Bill graciously volunteered his time and money to refurbish the church office doors.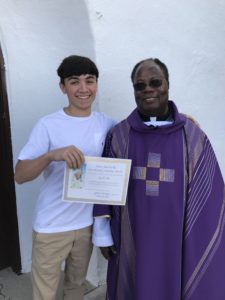 Bo Padilla given Saint John Paul II 2018 Youth Leadership Award by the Diocese of Tucson in recognition of outstanding leadership in the area of Community Service and Social Justice within the community of St. Helen Parish, Oracle. Bo is the son of Billy and Maggie Padilla. Congratulations Bo!