St. Helen Annual Rummage Sale: August 24, 2019 from 7 a.m. – 1 p.m. We will accept the following items: Clean, gently used items of clothing, shoes, household items, tools, electrical devices, etc. All electrical devices must work and must include all parts attached. *** *** *** Green chile burros $4.00, breakfast burros $3.00. Pre-orders for burros will be taken. We are requesting donations of meat, GREEN CHILE (HOT!), canned tomatoes, onions, tortillas. Also for breakfast burros: eggs, chorizo, bacon, hash browns, salsa. *** *** *** Monetary donations specified for this event also kindly accepted. Please contact Jennie Seballos 520 400 4404 or Ellie 520 237 2086 if you can help, or if you have questions.
Disaster Preparedness – the Knights of Columbus are collecting cases of water, flashlights, blankets, and granola bars for our Parish DP kit. We are being proactive and creating a kit for those people or events when a disaster hits. Please support the Knights on this project.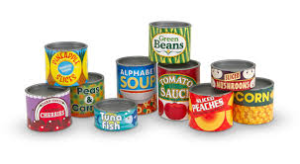 40 Cans for Lent program 2019- The Knights of Columbus collected over 800 pounds of nonperishable food items for their annual Spring food drive for the Tri-Community Food Bank . Thank you to all who supported the Knights by dropping off food items at the church.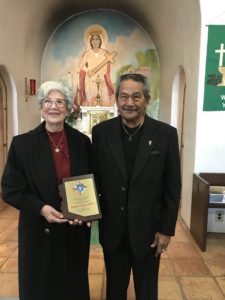 Congratulations to Knights of Columbus Family of the Year – Jenny and Johnnie Seballos were awarded the Family of the Year by the Loyola O'Dougherty Council 5542. Johnnie was also awarded Knight of the Year.
Fall Fiesta 2018 – Saturday, October was a HUGE success – Thanks goes to Ellie Brown, Manny Navarro and Alfred Trejo for spearheading this year's fiesta. Thanks goes out to all who helped work with the fiesta. You are all blessed for your hard work that made the fiesta an enjoyable and successful event.  View Fiesta Video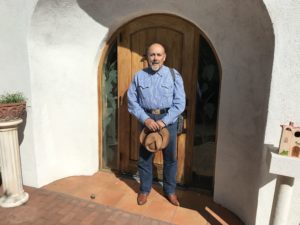 Thank You to William Agredano – Bill graciously volunteered his time and money to refurbish the church office doors.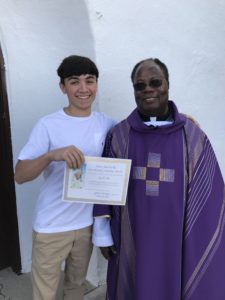 Bo Padilla given Saint John Paul II 2018 Youth Leadership Award by the Diocese of Tucson in recognition of outstanding leadership in the area of Community Service and Social Justice within the community of St. Helen Parish, Oracle. Bo is the son of Billy and Maggie Padilla. Congratulations Bo!