2018 Pre-Fiesta BBQ fundraiser – Saturday, Aug. 25 from 4-7 p.m. on parish grounds. Music and food available, click on tab below for more information
2018 Fiesta Meeting: Our next fiesta meeting will be held Thursday, September 13, 2018 @ 6:00 p.m. in the church hall. All are invited to attend.  This is a very important meeting to finalize fiesta planning, assigning booths, and inventory items donated and needed. Our fiesta will be held October 6, 2018.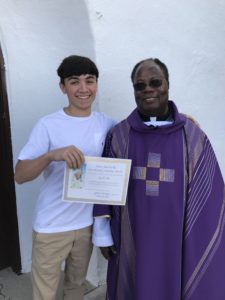 Bo Padilla given Saint John Paul II 2018 Youth Leadership Award by the Diocese of Tucson in recognition of outstanding leadership in the area of Community Service and Social Justice within the community of St. Helen Parish, Oracle. Bo is the son of Billy and Maggie Padilla. Congratulations Bo!