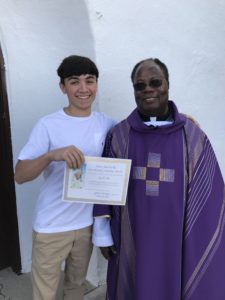 Bo Padilla given Saint John Paul II 2018 Youth Leadership Award by the Diocese of Tucson in recognition of outstanding leadership in the area of Community Service and Social Justice within the community of St. Helen Parish, Oracle. Bo is the son of Billy and Maggie Padilla.
Knights of Columbus Lenten Fish Fry Dinner at St. Helen's Friday, February 23 – 4 – 7 p.m. 
Baked or fried Tilapia, Coleslaw, French Fries, Roll – $9
Letter From Bishop Weisenburger concerning temporary recommended policy on: Reception of the Blood of Christ at Masses and suspension of the use of the common cup at Mass for approx. 30 days, in light of a very virulent flu strain affecting many Diocesan communities. Click on  Diocese of Tucson letter for more information.